1. Development environment
CPU: Intel(R) Core(TM) i7-7700hq 2.80ghz 4-core 8 logic processor
RAM: 16 g
Microsoft Windows 10 home edition – version 10.0.16299 – x64 based
Visual Studio 2015 professional
Note: when installing VS2015, be sure to check "programming language Visual C++", "Windows SDK" and "Update 3" in the custom installation.
VS2015 information is shown in the figure: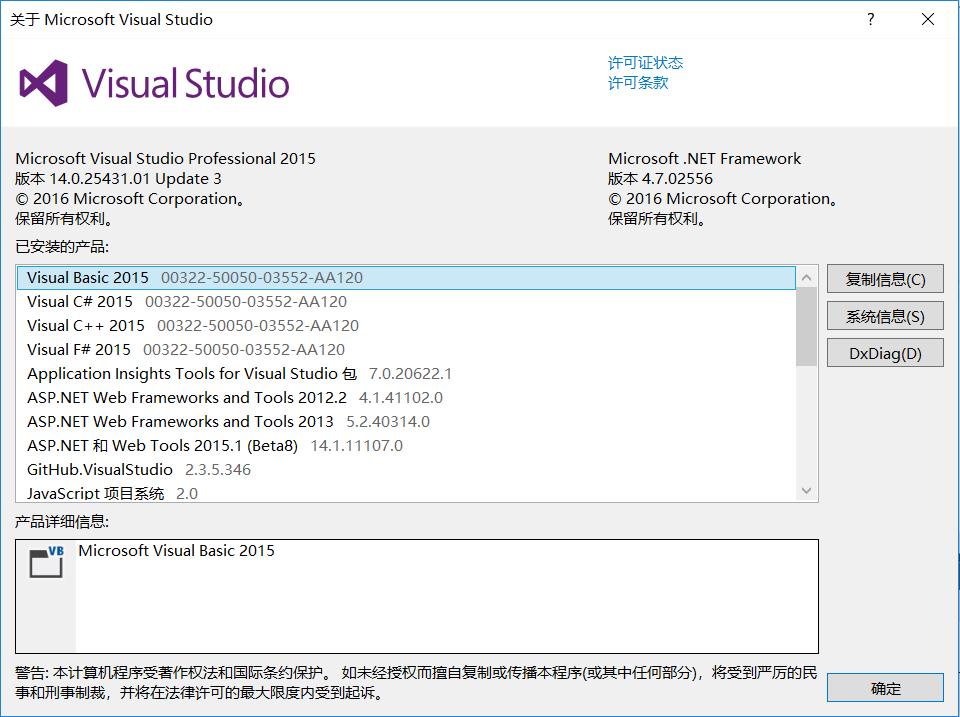 Translate:
关于 :About
许可证状态:License status
许可条款:License terms
版本:Version
保留所有权利:All rights reserved
已经安装的产品:Installed products
复制信息:Copy Info
系统信息:System Info
确定:confirm
项目系统:Project system
产品详细信息:Product details
2.Deepcamface.dll library and list of dependent files:
\DeepCamFaceApiS.h
\DeepCamFaceStdApiS.h
\Lib32\DeepCamFace.lib
\Bin32\DeepCamFace.dll
\Bin32\vcomp140.dll
\Bin32\config\AuthorizeConfig.json
\Bin32\config\AuthorizeConfig.Key
Note: for x64, rely on the Lib64 and Bin64 directories
3.Deepcamface.dll usage restrictions
Time limit authentication is performed by the server, and the AuthorizeConfig.Key file (compatible with the old json file) provided by the SDK provider is used for authentication. For the first use, the network must be unblocked
(non-proxy Internet access), which is convenient for authorization
authentication!
Note: at present, both networking and local authorization methods are supported. By default, networking authorization is required. The local authorization
method can only be provided after business communication.