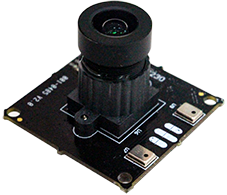 1) what is the dynamic range of the sensor?
— Max Dynamic range: Up to 96 dB, more details lease see attachment "AR0230datasheet.pdf" ;
2) what is the interface with a PC? we guess 4 pins on the PCB are for USB?
— Connecting computers via USB, please see attachment"SIZE";
3) Does the provided SDK allow to control the sensor gain? exposure? dynamic range settings?  
— To ensure optimal performance, modifying parameters ( for example, sensor gain,exposure,dynamic range) isn't permitted, the focal length will also be fixed.
4) Is the output compressed or it is a RAW WDR data?
— MJPG/YUV;
5) what is the video stream format?
— NV21;
Resources: