[vc_row][vc_column width="1/1″][vc_column_text]An interactive exploration of computer generated speech
The babbletron is a device that lets you explore the world of computer generated speech. The basic concept used by the babbletron is that synthetic speech can be
approximated using a small set of phonetically isolated speech fragments, called phonemes. To produce a word or phrase, you combine phonemes in a sequence that
makes a voice recognizable to the human ear.
This method of speech generation has been around for at least two decades, and is an efficient and compact means of representation, but does require some processing
power. The fairly recent introduction of low cost programmable micro-controllers has reduced the cost of speech synthesis hardware down to the price where makers
and hobbyists can incorporate synthetic speech in their own projects and prototypes.
The babbletron is a sandbox of sorts that can serve to explore computer generated speech using low cost hardware, and easily understood software. This instructable
can be used as a starting point for exploring your own artificial voice projects, and give you some general tips on how to construct a demonstrable project for public
consumption.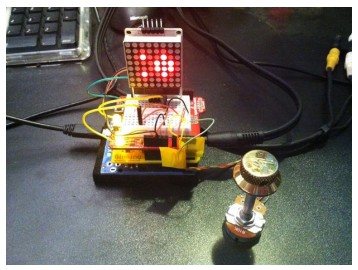 More details please refer to
http://www.engeldinger.com/services/media/docs/babbletron.pdf[/vc_column_text][/vc_column][/vc_row]