[vc_row][vc_column width="1/1″][vc_column_text]Long Range UHF RFID Reader is an important way to read information and input information. Automatic identification technology has been developed in recent years. Now it is a new high technology which includes barcode technology, magnetic strip (card) technology, RF technology, optical character recognition technology, and biological recognition, distance Card Reader and etc.
In normal case, UHF RFID tags need less power than the reader which needs to have high receiving sensitivity. In certain system, the transmit path and receive path are independent of each other in the reader, especially when the uplink and downlink have different frequency.
Technically, different applications can choose different transmit power. However, there are regulations that need to be met. Usually the RF power 100mW~500mW is suitable for all kinds of RFID distance reader system. In different regions and areas, the reader has to follow different regulations.
Cottonwood distance reader has many advantages such as: compatibility with different protocols, high reading speed multi-tags reading, linearly polarized antenna, waterproof appearance designing and etc. It can be widely used in RFID systems, and is very friendly to further development based on it.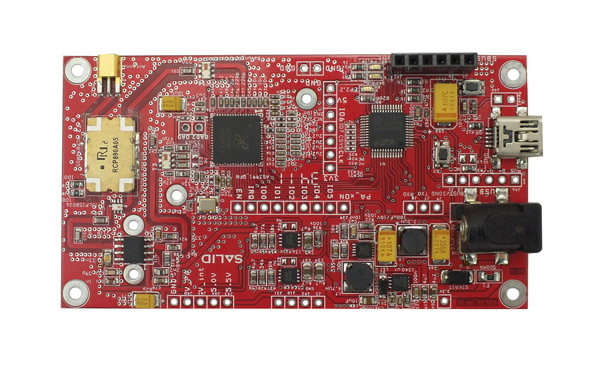 [/vc_column_text][/vc_column][/vc_row][vc_row][vc_column width="1/1″][vc_tour][vc_tab title="Cottonwood Description" tab_id="1387261697-1-66″][vc_column_text][table caption="Specification of Cottonwood" ]
Item, Description
Protocol,  Support SOI18000-6C(EPC CEN2) | SO18000-6A/B  Protocol
Operating frequency,  920.625-924.375MHz  | National RFID Standards 902 .75-927.25 MHz |America RFID Standards 865.7-867.5MHz |European RFID Standards 840-960 MHZ available
Operating frequency hopping frequency band,  FHSS automatic frequency hopping
Transmitter power,  can be set by software with a  maximum of 20 dbm 100mw
Working voltage, 5V
The antenna interface, 1
The antenna matching resistance, 50 ohm
Host Communication Interface ,TTL/USB (this experiment using TTL)
Communication baud rate, 115200 bps.
[/table][/vc_column_text][/vc_tab][vc_tab title="Setup" tab_id="1387261697-2-34″][vc_column_text]In this experiment, we need the following parts:
1 x pcDuino v1
1 x T-board
1 x Base shield
1 x Cottonwood UHF RFID Reader
1 x Antenna
1 x UHF RFID  label
The wiring diagram is as follows:
The overall picture: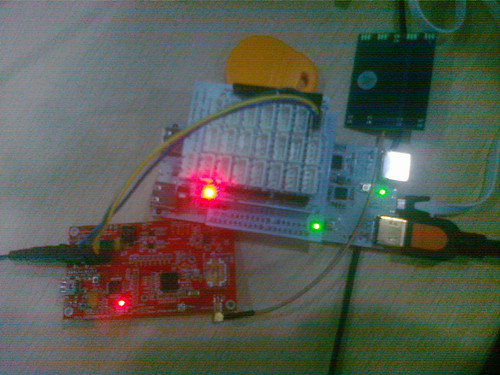 Serial port connection:
pcDuino wiring:                                                                 Cottonwood wiring
Please pay attention to the color of the wires.[/vc_column_text][/vc_tab][vc_tab title="Sample Code" tab_id="1387263283429-2-0″][vc_column_text]
<code>
#include <core.h>
#include <Serial.h>
#include <pthread.h>
char commend[][6] = {
{0×10, 0×03, 0×01},// obtain the versions of hardware
{0×10, 0×03, 0×00},//obtain the versions of image
{0×31, 0×03, 0×01},//start look for label
{0×31, 0×03, 0×02},//collect next label
{0×43, 0×03, 0×01},//start look for RSSI
{0×43, 0×03, 0×02}//collect next RSSi
};
char commend_name[][40] = {
{"obtain the versions of hardware:"},
{"obtain the versions of image:"},
{"start look for label:"},
{"next label"},
{"look for (RSSI)"},
{"next RSSi(RSSI)"}
};
unsigned char cmd_select = 0;
void fram()
{
printf("+++++++++++++++++++++++++++++++++++++++++++++++\n");
int i = 0;
for(i = 0; i < 6; i ++)
{
printf("%d.", i);
printf("%s\t", commend_name[i]);
if(i == 2)
{
printf("\n");
}
}
printf("\n+++++++++++++++++++++++++++++++++++++++++++++++\n");
}
void * sou_fun(void *p)
{
while(1){
if(Serial.available()){
printf("+++++++++++++++++\n");
printf("%s:", commend_name[cmd_select]);
unsigned char read_data = 0;
while(Serial.available())
{
read_data = Serial.read();
printf("0x%x ", read_data);
}
printf("\n++++++++++++++++\n");
}
}
return (void *)NULL;
}
void sou_error()
{
unsigned char read_data;
while(Serial.available())
{
read_data = Serial.read();
printf("%d ", read_data);
}
printf("please hold on …\n");
}
void setup()
{
pthread_t pid;
pthread_create(&pid, NULL, sou_fun, NULL);
Serial.begin(115200);
while(!Serial)
{
;
}
Serial.println(commend[0]);
delay(500);
printf("UHF RFLD_READER test!\n");
}
void loop()
{
fram();
scanf("%c", &cmd_select);
cmd_select -= '0′;
getchar();
Serial.println(commend[cmd_select]);
delay(1000);
}
</code>
Compile and run using the following command:
$gcc XXX.cpp -o XXX  -lpthread -larduino
$./XXX
[/vc_column_text][/vc_tab][vc_tab title="Screen shot " tab_id="1387264615421-3-4″][vc_column_text]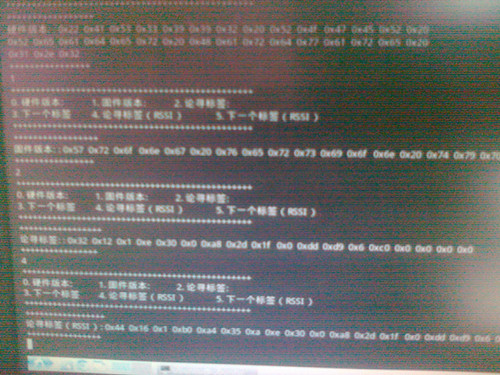 For related commands, please refer to:
https://s3.amazonaws.com/linksprite/cuttonwood/datasheet.pdf[/vc_column_text][/vc_tab][/vc_tour][/vc_column][/vc_row]