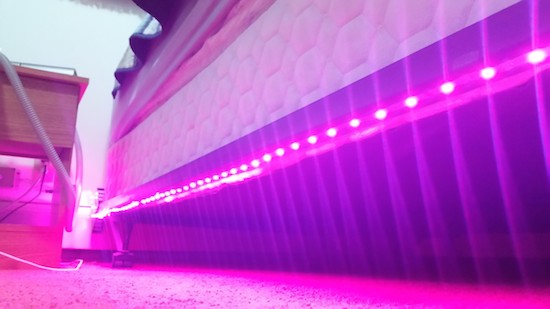 Rather than stumble around in the dark or blind himself with a bedside lamp, Maker Scott Clandinin has come up with an Arduino-powered, motion-activatedlighting system for nighttime wandering.
The setup is fairly simple. A PIR sensor detects movement, which automatically triggers a hidden strip of RGB LEDs to illuminate a path as you get out of bed. An RTC module keeps the time and ensures that the lights only turn on between 9pm and 8am. (The good news is that the strip will only stay lit for approximately two minutes, and won't keep you up for the rest of the night.) A small capacitive touch sensor on the bottom of its case can also be used to test the lighting display outside of operational hours. 
Tired of bumping into things or having to find the switch? Then check out Clandinin's entire project on Hackaday.io.
the original post is from https://blog.arduino.cc/2016/08/31/motion-activated-bed-lighting-system-for-nighttime-wandering/