[vc_row][vc_column width="1/1″][vc_column_text]Arduino BLE Shiled is an Arduino shield which uses ZBmodule Bluetooth 4.0 module (using TICC2541 chip) . In the SIG release of Bluetooth 4.0 standard specification, Bluetooth 4.0 adds the low-power (Bluetooth Low Energy, BLE) technology, the peak energy consumption is just half of the traditional Bluetooth devices. Bluetooth 4.0 single mode chip (BLE) can use a single button batteries (such as CR2032 of3V, 220mAh ) work for a long time (months or years). In contrast, the standard Bluetooth technology often requires two AAA batteries at least, can work a few days or weeks only. Previously people criticized Bluetooth version is that the slow start, the start-up of Bluetooth 2.1 version need to takes about four seconds,only need three versions Bluetooth 4.0 milliseconds to complete now, almost instantaneous connection. If Bluetooth 2.1 is ordinary "feature phones", then the latest Bluetooth 4.0 is a "smart phones."[/vc_column_text][vc_tour][vc_tab title="Introduction" tab_id="1389924213-1-7″][vc_column_text]Use only the ZBmodule module , you can use Bluetooth 4.0 (BLE) low-power technology easily that allows your Arduino with iPhone, ipad to communicate. ZBmodule has ADC, PWM, IO, SPI, UART interfaces , it supports all major development platforms and MCU, or even a single module for use. BLE Shield is expansion board which applied ZBmodule to Arduino platform. Use Arduino serial to communication with ZBmodule module can be tested independent function of ZBmodule module individually,can do more sensor applications with the Arduino platform.
Parameters:
Working frequency 2.4GHz (2402MHz ~ 2480MHz)
Transmit power : 0 dBm to -23 dBm
Receiver sensitivity -93dBm (1Mbps)
The maximum transfer rate 1Mbps
Minimum operating voltage 2.0V
The maximum operating voltage 3.6V
Working Mode 19.6mA
Standby current is less than 1uA
The maximum current 20mA ( sending data -6dBm)
Remote control range : visual range of 25 m radius , with cover 10 meters
Module size : 26.7mm * 18.3mm * 8.8mm
On-board PCB antenna / External Antenna
You can upgrade the firmware through the serial port
The default mode of operation : transparent transmission
Predefined interfaces , interface functions can be modified by App
3 -channel ADC
4 programmable IO ports
4 programmable PWM (SPI PWM can not be used )
SPI interface (SPI PWM can not be used
UART serial
USB interface
instructions:
lead all the IO ports of Arduino, and comes with power supply 5V and GND connections beside IO, more convenient to use the steering gear and other equipment
With I2C interface level conversion, you can use the 5V level 3.3V level I2C interfaces to connect various types of sensors;
Level converter with SPI interface, pin directly compatible with nRF24L01
All leads ZBmodule module IO ports, you can easily debug ZBmodule module
And with a full-color LED and adjustable resistance, test ZBmodule module comes with PWM outputs and ADC sampling
With ZBmodule module status LED, flash (3Hz) on behalf offline, slow flash (1Hz) on behalf of online
Onboard 3.3V LDO is ZBmodule module 3.3V I2C and SPI interface provides independent power; approximately 300mA output current
5V input interface, for the digital IO ports provide a more robust power supply current through an external 5V power supply to drive the power steering
Reserved XBEE pin. XBEE compatible serial communication module
[/vc_column_text][/vc_tab][vc_tab title="Diagram of function pins" tab_id="1389924213-2-46″][vc_column_text]
[/vc_column_text][/vc_tab][vc_tab title="Parts List" tab_id="1389924591675-2-3″][vc_column_text][bigcommerce link="/arduino-uno-compatible-usb-board-r3/" target="_blank"]Arduino UNO[/bigcommerce] x1
BLE Shield x1
iPhone/iPad mini x1
[bigcommerce link="/5mm-blue-led-module-of-linker-kit-for-pcduino-arduino/" target="_blank"]Linker_LED[/bigcommerce] x1
[bigcommerce link="/rb-150cs-servo-with-360-degree-freedom-arduino-sample-code/" target="_blank"]Servo[/bigcommerce] x1
wire x2
"-" Or "+" small screwdriver (to adjust potentiometers) x1[/vc_column_text][/vc_tab][vc_tab title="Download and hardware connections" tab_id="1389924593130-3-3″][vc_column_text](1) The BLE Shield inserted on the Arduino UNO, Arduino USB connection to the power, to download code to the Arduino UNO (code can be downloaded in the annex):
Note: Choice arduino model correctly,ZBmodule waiting for a connection, LED3 blink frequency is 3 times / sec.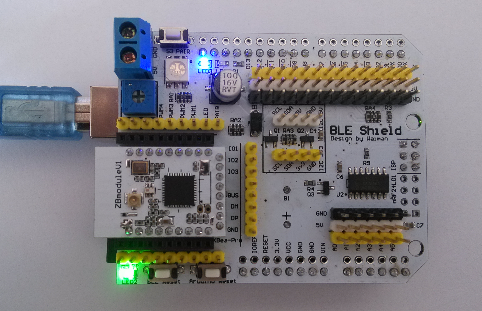 (2) Use the iphone / ipad search "ControlMore" application on the App Store, and download and install (download address).
(3)Open iphone / ipad Bluetooth function (open in the settings) first , and then open ControlMore, click on "Connect" to search the surrounding Bluetooth 4.0 devices, as shown: Search to ZBModule01, both tested using current BLE Shield then click ZBModule01 to connect BLE Shield, when the connection is successful display test function display page, then BLE shield above 1 second LED3 flashes once: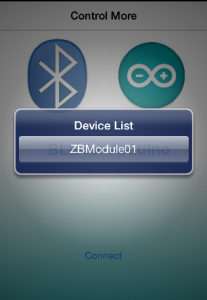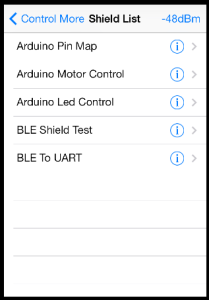 Enter the test page of Arduino Pin Map[/vc_column_text][/vc_tab][vc_tab title="Arduino Pin Map Test" tab_id="1389924594062-4-4″][vc_column_text](1) Test Digital Output
Wiring:Linker_LED SIG –> BLE_SHD D2 、Linker_LED GND –> BLE_SHD GND
D2 Output closed,output low level,Linker_LED off:

D2 OUTPUT open, Output High Level, Linker_LED lit: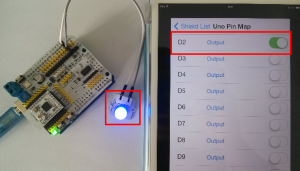 (2) Test pwm output:
Wiring: Linker_LED SIG -> BLE_SHD D6, Linker_LED GND -> BLE_SHD GND
pwm duty cycle is 0 when, Linker_LED off: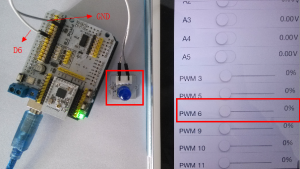 pwm duty cycle of 28% of the time, Linker_LED micro-light:
pwm duty cycle of 100% of the time, Linker_LED brightest: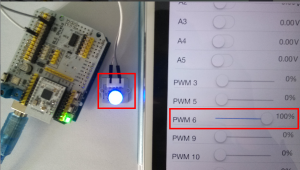 (3) Test ADC:
With two lines are shorted to 5V above the ADC0, ADC1 shorted to GND above, and open channels A0 and A1 in iphone / ipad.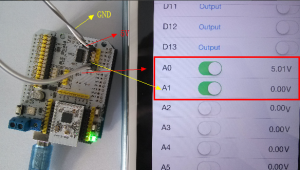 [/vc_column_text][/vc_tab][vc_tab title="Arduino Motor Control Test" tab_id="1389928174921-5-3″][vc_column_text]Into the Arduino Motor Control test page:
(Three lines servos are: red-VCC, brown-GND, yellow-SIG)
Wiring (D3 control channel is Servo 02):
Servo SIG -> BLE_SHD D3
Servo VCC -> BLE_SHD 5V
Servo GND -> BLE_SHD GND
Servo 02 is set to 0 degree angle when steering at 0 degrees position: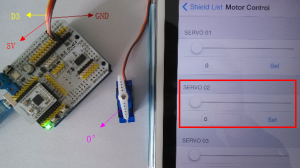 Servo 02 is set when the angle is 90 degrees, 90 degrees in the steering position: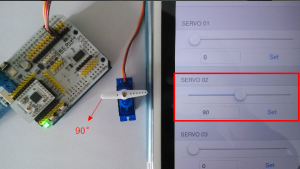 Servo 02 is set when the angle is 180 degrees, 180 degrees steering position:
[/vc_column_text][/vc_tab][vc_tab title="BLE Shield Test" tab_id="1389928176151-6-0″][vc_column_text]into the BLE Shield Test test page (ZBmodule module function control):
Current status:
No sliding sliders LED, RGB LED goes out
No adjustment potentiometer, current voltage is 1.61V
Do not press the button, BUTTON status is Off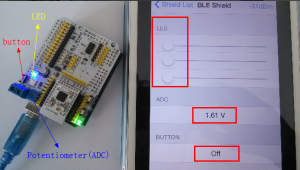 State after commissioning:
Ipad hand sliding the slider on the LED, RGB LED lighting, display color settings for the current RGB color values
Use a screwdriver to adjust the potentiometer BLEShield on the test voltage value is displayed as "3.30V"
Press the button on the BLE Shield, BUTTON status changes at this time "On"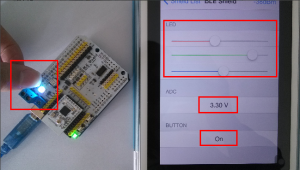 [/vc_column_text][/vc_tab][vc_tab title="Download" tab_id="1389928713834-7-6″][vc_column_text]
[/vc_column_text][/vc_tab][/vc_tour][/vc_column][/vc_row]