[vc_row][vc_column width="1/1″][vc_tour][vc_tab title="1. General Description" tab_id="1392603633-1-76″][vc_column_text]AW Serial Camera series has a standard RS232 interface; it supports RS232
input/output signals and can connect to PC or any other device with RS232 interface.
The communication speed (baud rate) is 2400 bps, 9600bps, 14400 bps, 19200bps,
38400bps, 57600bps, and 115200pbs. It is default to115200bps.[/vc_column_text][/vc_tab][vc_tab title="2. Data Frame Type " tab_id="1392603633-2-38″][vc_column_text]2. Data Frame Type
There are three types of data frame transmitting between camera and host, they are:
Command Frame, ACK/NAK Frame and Data Frame.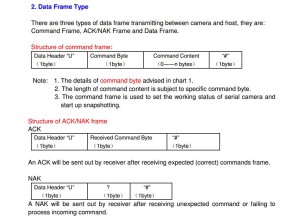 [/vc_column_text][/vc_tab][vc_tab title="3. Command Instruction" tab_id="1392604248109-2-0″][vc_column_text]3. Command Instruction
△Chart 1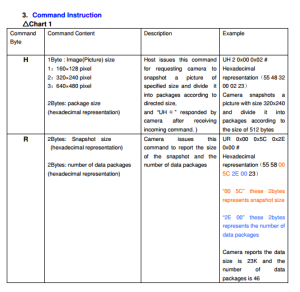 [/vc_column_text][/vc_tab][vc_tab title="Download PDF" tab_id="1392604515393-3-2″][vc_column_text]Download pdf:
Datasheet of LinkSprite All Weather JPEG serial camera with infrared[/vc_column_text][/vc_tab][/vc_tour][/vc_column][/vc_row]