[vc_row][vc_column width="1/1″][vc_column_text]As mentioned before, we can use guvcview to capture the stream video as a image. So is it possible to DIY a simple camera?
Sure, and it is very easy![/vc_column_text][vc_tour][vc_tab title="Pre-requisites:" tab_id="1449218350-1-4″][vc_column_text]
Hardware

pcDuino8 Uno
USB UVC camera

Software

Ubuntu 14.04
Python 2.7.6
OpenCV 2.4.11
[/vc_column_text][/vc_tab][vc_tab title="Steps" tab_id="1449218350-2-22″][vc_column_text]
1. Connect
To make it simple, I just connect GPIO0 to GND via a Dupont line. Insert or pull out the line to simulate pressing or releasing a button.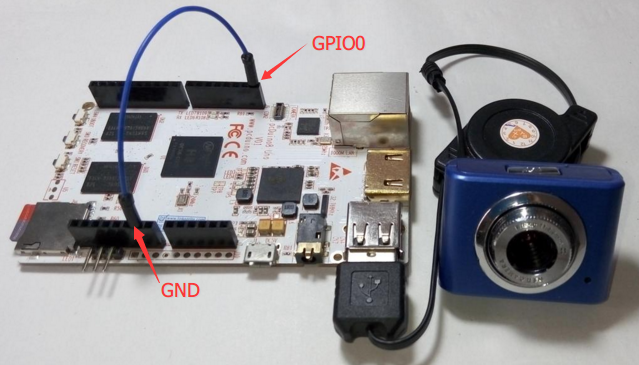 Note: you should know the status that described as the following table.
| Connection | Status | Logic |
| --- | --- | --- |
| Pull out from GND port, without loading | High level | 1 |
| Insert to GND port | Low level | 0 |
2. Run
$ git clone https://github.com/pcduino/pcduino8-uno-guide
$ cd pcduino8-uno-guide/demo/1.CameraDIY/
$ python camera.py
The window show the video from webcam in realtime.
Pull out the Dupont line from GND port and insert into GND port again.
The photo will be saved to the current directory.
View the photo.
$ gpicview
[/vc_column_text][/vc_tab][vc_tab title="Source code" tab_id="1449218699835-2-3″][vc_column_text]
import argparse
import datetime
import time
import cv2
import gpio

btn_pin = "gpio0"
gpio.pinMode(btn_pin, gpio.INPUT)
camera = cv2.VideoCapture(0)
time.sleep(0.25)

while True:
    #read the button status
    current_st = gpio.digitalRead(btn_pin)
    (grabbed, frame) = camera.read()

    if not grabbed:
        break

    cv2.putText(frame, datetime.datetime.now().strftime("%A %d %B %Y %I:%M:%S%p"),
        (10, frame.shape[0] - 10), cv2.FONT_HERSHEY_SIMPLEX, 0.35, (0, 0, 255), 1)

    cv2.imshow("video",frame)
    next_st = gpio.digitalRead(btn_pin)

    #check the button status has been changed
    # if yes, save as a image to local
    if current_st ^ next_st :
        name = datetime.datetime.now().strftime("%Y%m%d%H%M%S")
        cv2.imwrite(name+".jpg", frame, [int(cv2.IMWRITE_JPEG_QUALITY),100])

    key = cv2.waitKey(1)
    if key == ord("q"):
        break

camera.release()
cv2.destroyAllWindows()
[/vc_column_text][/vc_tab][/vc_tour][/vc_column][/vc_row][vc_row][vc_column width="1/1″][/vc_column][/vc_row]