Python is preinstalled on my pcDuino Lubuntu, but I'm unable to find IDLE integrated development environment for Python. How do I install IDLE IDE?
IDLE is the Python IDE built with the tkinter GUI toolkit. How do I install IDLE IDE?
IDLE has the following features:
coded in 100% pure Python, using the

tkinter

GUI toolkit
cross-platform: works on Windows, Unix, and Mac OS X
multi-window text editor with multiple undo, Python colorizing, smart indent, call tips, and many other features
Python shell window (a.k.a. interactive interpreter)
debugger (not complete, but you can set breakpoints, view and step)
You need to install the following package:
idle -This Debian or Ubuntu Linux meta package for IDLE. You may need to install idle-python2.5 package for Python v2.5, idle-python2.6 package for Python v2.6, idle-python3.1 package for Python v3.1.
IDLE Linux Installation
type command on pcDuino Lubuntu Terminal:
$ sudo apt-get install idle
How do I start IDLE under Lubuntu?
Type the following command:
$ idle
OR Visit menu option
Programming > IDLE

Sample outputs: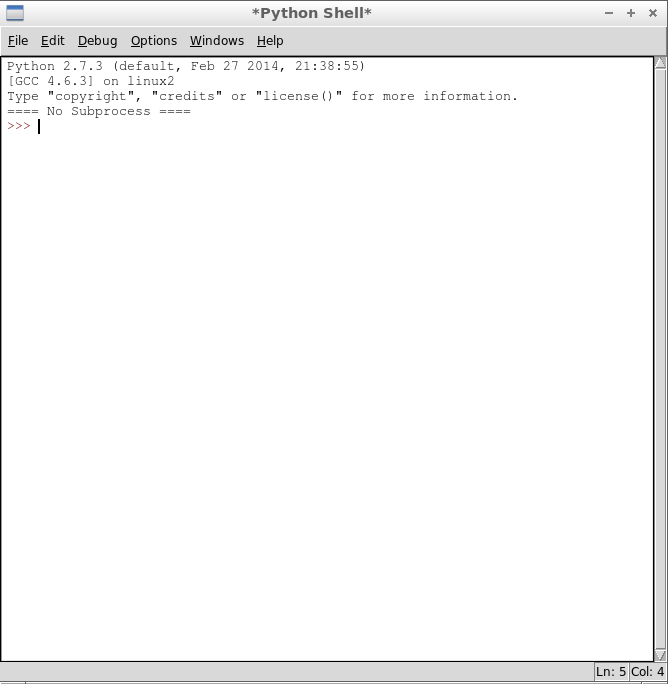 See also: