Functions and descriptions:
Perpetual calender: from 1st/January/2000 to 31st/December/2099;
The hour display format can be set between 12 hour format or 24 hour format. The time zone can be setfrom-12 to +12 (user setting);
Daylight saving time is adjusted automatically (The daylight saving time is adjusted on the basis of differenttime zone);
The date display format can be set as: YYYY-MM-DD,MM-DD- YYYY,DD-MM-YYYY(user setting);
The RCC time function can be set between DCF mode or WWVB mode; In RCC mode, press any key to quit;In British, DCF signal can be received entirely.
Wireless 433 MHZ receiving. Available distance: 100 meters in outdoor open field. While receiving RF, pressany key to quit;
Indoor/outdoor relative humidity (RH %) display. Display range: 20% to 99%. Resolution: 5%;
Indoor/outdoor temperature display. Display units options: ℃/℉(user setting). Indoor temperature range:0℃ to +50℃; Outdoor temperature range: -40℃ to +60℃; Resolution (for both indoor/outdoor temperature):±1℃
Wind-chill temperature display. Display units options: ℃/℉(user setting);
Dew-point temperature display. Display units options: ℃/℉(user setting);
Atmospheric pressure (absolute pressure and relative pressure) display. Display units options: Hpa, Inhg ormmhg (user setting). Pressure display range: from 750hpa to1100 hpa;
The trend of the atmospheric pressure can be displayed via histogram. The time format can be set between12H format or 24H format (user setting);
Wind speed and wind direction display. Average wind speed and gusts display. The units can be set asm/s,km/h,mph,knots or bft ( user setting ). Wind speed range: 0 to 50 m/s; Wind direction range:E,S,W,N,SE,NE,SW,NW;
Rainfall can be displayed on the basis of hour, day, week, month or total. The unit can be set between mm orinch (user setting); Available total rainfall is 9999mm;
Sunny, cloudy, overcast, rainy, snowfall, rainstorm can be forecast and displayed via six corresponding icons.These icons indicate different weathers and weather tendency;
All maximum/minimum data can be recorded and displayed. In addition, the time of recorded data can bedisplayed as well;
The weather alarm can be set separately, any value can be set. The alarm signal lasts 2 minutes;
LED backlight. Press any key, backlight will be activated and lasts 10 seconds;
Indoor/outdoor low voltage detection. Sign flash appears while low voltage;
Consumption: 3*AA 1.5V Alkaline batteries or DC 5.5V transformer (electric current bigger than 100mA).
How to set up
1.Open the box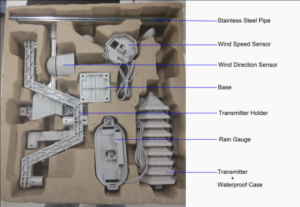 2.Refer to the manual and install the components.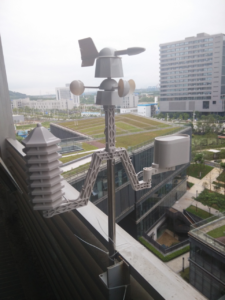 3.Power on (install 3 x AA 1.5V) the indoor receiver first, and then install the batteries (2 x AA 1.5 V) in the outdoor transmitter, Pls DON'T have any button operations during this period, and keep WAITING for 10 minutesin order to let the indoor receiver has enough time to complete the signal matching. The data of the transmitter will update every 48 seconds. The screen of the receiver will show as below picture: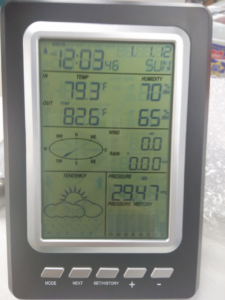 4.Setting parameters according to the manual. And you can start to enjoy the pleasure of this weahter station.
Link:  http://linksprite.com/wiki/index.php5?title=WS1030_Wireless_Weather_Station_with_Solar_Sensor