[vc_row][vc_column width="1/1″][vc_column_text]NetLogo is a multi-agent programmable modeling environment. It is used by tens of thousands of students, teachers and researchers worldwide. It also powers HubNet participatory simulations. It is authored by Uri Wilensky and developed at the CCL. You can download it free of charge.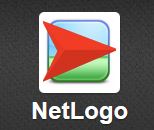 there is a new version of the pcDuino single-board computer that has just been released.
there are some improvements to the hardware including an embedded wireless module; they've thought more about arduino compatibility; and they've changed the base image a bit.  there is limited availability, but even from a non-discount distributor it's still in the $60s.
i had run tests back in april to get netlogo running on the v1 pcduino, with the general impressions that (a) though a bit slow, the off-the-shelf linux netlogo ran well enough for real use, and (b) because the GPIO pins are accessible via the OS (as virtual files that can be read from or written to), interfacing netlogo with physical computing was really easy.  (i created a GPIO extension to demo this and found it highly responsive and robust).
the v2 only improves this situation. it comes with a version of OpenJDK ice tea which is sufficient to run netlogo.  the off-the-shelf linux distro of 5.0.4 runs faster (in my estimation) and certainly is useable.  and my gpio extension appears to run without modification (i have not re-set-up the circuits that i used back in april, but basic comms seem to be working as i'd hoped).
i think that this is getting ready for really powerful use.
https://groups.google.com/forum/#!topic/netlogo-devel/VPz-7YoISdY
[/vc_column_text][/vc_column][/vc_row]