Camalie Networks System 3 (CS3)
Camalie Networks System 3 is rapidly evolving but, is available now. Sufficient functionality has been completed to provide XBee/arduino wireless sensor network developers an open source turn-key platform on which application specific wireless sensor/actuator nodes and web interfaces can be built.
The CS3 weather proof, solar powered sensing station shown at right is capable of monitoring several sensors. Data is taken from the senosrs as often as every 15 seconds and relayed back to a gateway and on to a webserver with a database where the data is immediately available for viewing via the internet.
The gateway/arduino development system shown below is a pcDuino based Ubuntu Linux 12.04 computer. It has 1GB of RAM, 2GB of flash and an SD card socket which supports up to 64GB of additional non volatile storage. It also has HD graphics output and 2 USB ports for XBee Serial interface, keyboard, and mouse connections. It can be used as a local offline workstation for viewing data with Firefox and Apache serving open source packages drraw and RRDTools.It is also used for downloading and/or developing arduino code for nodes using the standard arduino IDE already installed on the system. The standard arduino library is installed in addition to example code developed by Camalie Networks.
The CS3-Z and ZX tranceiver nodes can be placed anywhere within 2 miles line of sight of the gateway or within 2 miles of another node which has a path back to the gateway. The CS3 gateway/development system acts as a relay to pass data to a Camalie Networks server in "The Cloud". It uses port 80 and http protocol to pass data up to the cloud and as such requires no static IP address or firewall reconfiguration at your site. Just plug it in and go to http://www.camalie.net/cs3/cs3Control.cgi to access your data, control your nodes and configure the Xbee radios on them like Digi's XCTU windows app but, from anywhere on the web.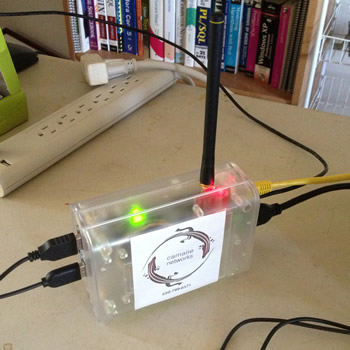 The project page can be found at: http://99.115.132.114/cs3prod.htm