In this post, we highlight the steps used to create a  SD card using Win32DiskImager for LinkSprite Acadia.
The image can be downloaded from the image page.
Windows:
Launch win32diskimager and plug in a SD card (please use a SD USB adapter, SD card should have a capacity larger than 4GB):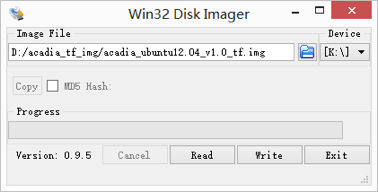 Note: please use the image with a version with v1.2 or above.
Click 'Write':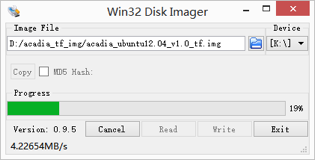 | | |
| --- | --- |
| 1 | $dd if=./acadia_ubuntu12.04_v1.0_tf.img of=/dev/rdisk3 bs=1M |
The TF card will be mounted as dev/rdisk3. Use the command '$unmount /dev/disk3s1′ to unmount, and create a SD card using:
After its done, it will prompt:

Install it in the SD card slot 1, and turn on power, Acadia will boot.