Cloning. What an abstract idea. One of the new features in Scratch 2.0 is the ability to clone an object. Here's a quick script that shows us cloning an apple so we can "feed the cat." This script is attached to the sprite we're cloning (an apple). Put all the stuff you want to do with the clone in between the clone startup and end startup blocks.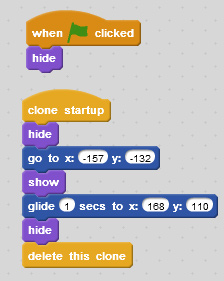 We use another sprite to actually clone the apple because cloning your self is hard, stresses Scratch, and feels wrong. In my example, sprite 1, the cat in the lower left of the stage, his hurling apples at the second cat each time the space bar is shown. That script isn't shown, but it's really simple (when space bar pressed, clone apple).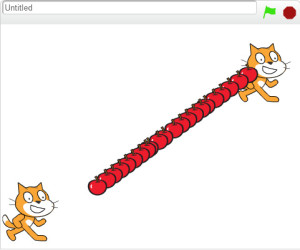 The following image shows a cloned apple.