[vc_row][vc_column][vc_column_text]Motivation:
In this project, we will demo how to synthesize color by separately controlling red, yellow and blue LEDs.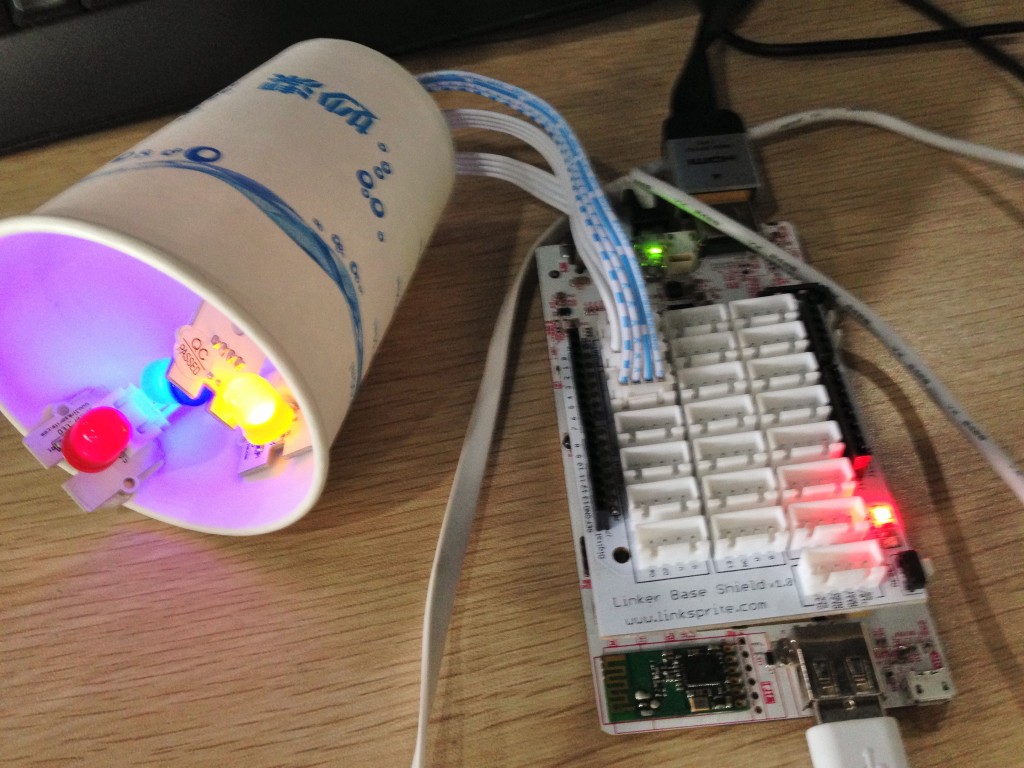 [/vc_column_text][/vc_column][/vc_row][vc_row][vc_column width="1/1″][vc_tour][vc_tab title="Parts List" tab_id="1400207646-1-78″][vc_column_text]
1  x  pcDuino
3  x  LED Module of Linker Kit for pcDuino/Arduino ( RED, YELLOW,BLUE Respectively)
1  x Linker base
[/vc_column_text][/vc_tab][vc_tab title="Preparation" tab_id="1400207646-2-13″][vc_column_text]
1. Install the Linker Base Shield to the pcDuino, and then install the linker cable as the following diagram.
Note: Different ports  are used to connect LEDs of different colors. 
2. Dig a small hole at the bottom of the Cup, and then plug the three connectors on the other end through the small hole ,  then attach the corresponding color LED.
Note: put the three lights together as closely as possible in order  to show the  bright and colorful results.
[/vc_column_text][/vc_tab][vc_tab title="Draw the role" tab_id="1400208507881-2-4″][vc_column_text]1. Click 
 to draw the script.
First draw the role 1,costumer 1
2. Click the 
, to draw the costumers2
Use the same way to draw the yellow LED and the blue LED