Pre-requisites
8G (or bigger) TF card( Speed class is recommended for Class 6 or higher)
TF card reader
Windows tool: PhenixCard_V309
Steps
Plug your micro-SD card to your PC, run PhoenixCard.exe. You will see something like this: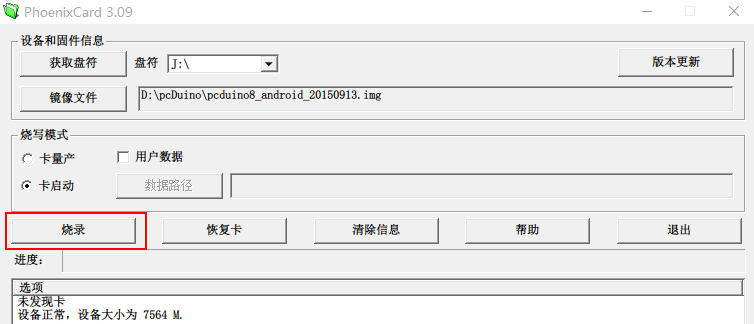 Choose the Android image file pcduino_Android_ xxx.img that you've downloaded.
Select Write Mode as Startup.
Click Burn to write img file to the micro-SD card.
We use PhoenixCard_V309 to create a production SD card. Please don't use the SD card reader built-in of the laptop as it may not support the special writing that is needed when creating production SD card. We use a USB card reader instead.
After we create it successfully, put the SD card in the SD slot of pcDuino8 Uno and power cycle it. There is NO LED on the board to indicate it is working or not. After waiting for around several minutes, if it is successful, we will see Android asking us for configuring it as it is powered on for the first time.
Restore the micro-SD card created
If you don't this micro-SD card any more and just want to restore micro-SD card as normal. you can take the following steps.
Plug your micro-SD card to your PC, run PhoenixCard.exe.
Select the micro-SD card in the disk scroll window, and choose Format to Normal to restore the card.